2020-12-28 03:15:17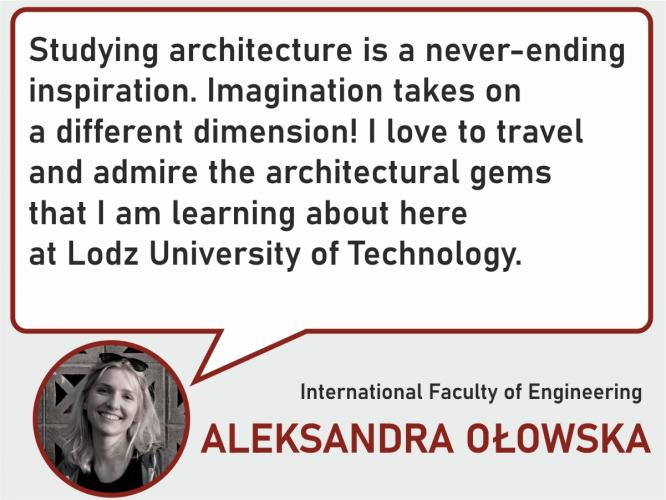 My name is Ola and I am in the last year of my second cycle studies in Architecture. I will try to briefly describe to you what my studies look like and what you can expect from them.
Wide horizons
As you can probably guess, architecture is not an easy field. It requires a lot of commitment, diligence, and willingness to broaden your horizons. The life of an architecture student is not only about classes at the university but also about the ability to work with the computer, the desire to read books, sketch, make mock-ups, and infinite search for inspiration. You are probably wondering why it is worth studying architecture, despite a large amount of work involved? There are many reasons for this.
Change of perspective
Studying architecture means gaining vast knowledge of art history and contemporary architecture. You will go on an amazing journey through houses, palaces, churches, which you will get to know virtually at lectures, and sometimes you will visit them "live". In the future, you will be able to evaluate their beauty or ugliness from a completely different - conscious - perspective.
Your imagination will take on a different format during design or art classes. Year after year, your projects will become more and more complicated and your satisfaction will reach a higher level.  Studying architecture has taught me openness to the world and inner curiosity in exploring it. I love to travel and admire the architectural gems I learn about here at Lodz University of Technology.
Development on many levels
We have various forms of classes in our plan - from lectures, through practicals, laboratories, to seminars. During your studies you will design a single-family home, a multi-family residential, or various public facilities such as a car showroom or kindergarten. You can also include some of the objects within the competition projects. This also broadens knowledge and allows you to gain additional skills. You will also have the opportunity to cooperate with colleagues from other departments - construction, environmental engineering, spatial management. This gives you a foretaste of how collaboration with industry professionals on a project in your future work can look like. And the diploma project? In my case, it was a pleasure. Simply put: you choose a leader and under his supervision you make a dream project!
A university that motivates.
Consistently high position in the rankings, a large number of interest groups, the possibility of going to ERASMUS - these are just some of the advantages of the Lodz University of Technology. The lecturers have a lot of knowledge that they want to share with the students. During the academic year you will have the opportunity to take advantage of various workshops or courses, take part in exhibitions organized at the university.
But of course it is not science itself that makes you live. The campus, where the Architecture building is located, is very close to the centre of Lodz, so there will always be time and opportunity to go to OFF Piotrkowska with your friends after the lectures and relax together.
And why did I choose Lodz? I was driven by a desire to get to know the new city and new environment. I've been living here for over 7 years now and I can see how Lodz is changing, new architecture is being created every year. This city has great potential, and we young architects can help it.
See you at the university!
Aleksandra Ołowska
Architecture student
ostatnie zmiany 2021-02-22 01:32:42