2021-01-11 12:28:36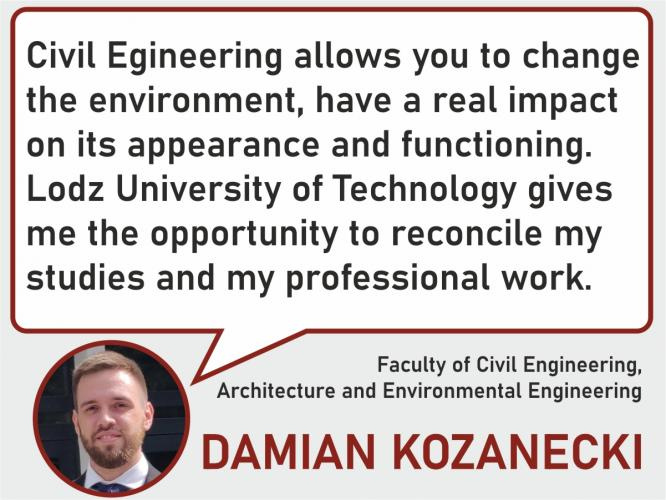 Hello!
My name is Damian Kozanecki and I am currently a first-year student of master studies at the Faculty of Civil Engineering, Architecture and Environmental Engineering.
Why did I choose Civil Engineering?
The choice of this field of study was not accidental for me. Before I took my secondary school-leaving examination, I felt that this is a field with which I will associate my future. In this way, I wanted to change the environment in which I function on a daily basis.
What did I find out during my studies?
Only after a few semesters of studies did I find out that there are many career paths after graduation. I could work on a construction site as a site manager, a project manager, or in an office as a builder or a cost estimator. I can specialise in various areas of construction: roads, bridges, residential buildings, industrial buildings, and many others. The opportunities I have mentioned are only a handful of things that the labour market offers to construction engineers. Personally, I associate my future with the design of mainly steel structures, using innovative and advanced computer-based design methods.      
What are studies like?
The initial semesters prepare students to understand and solve problems that we deal with in the subsequent semesters. During our studies, we acquire the necessary knowledge that every civil engineer should have. In addition to learning the design methods and software that helps us in this, we also learn to understand these tools.
In addition to what the education program offers us, we can develop our interests more widely. This is made possible by the Professors who offer their support and help, and the Scientific Clubs functioning at our Faculty. Currently, I am the president of the Science Club "Momencik". I have made many important friendships in the club, and participation in competitions allowed me to apply the acquired design skills in practice.
Why is it worth studying at TUL?
            Studying at Lodz University of Technology gives students great opportunities for development. Classes are run by experts who, apart from extensive knowledge, also have experience in their fields. Personally, many times in my professional work I have met lecturers who taught me during my studies, and this is the best recommendation!
I encourage you to study Civil Engineering, but most of all, I encourage you to develop your passions and broaden your horizons. I guarantee that our University is able to provide very good conditions for the development of each of you, and the acquired skills will be noticed and appreciated by your potential employers in the future.
Damian Kozanecki, from Poland
Civil Engineering student
ostatnie zmiany 2021-02-22 01:34:35