2020-12-15 03:00:08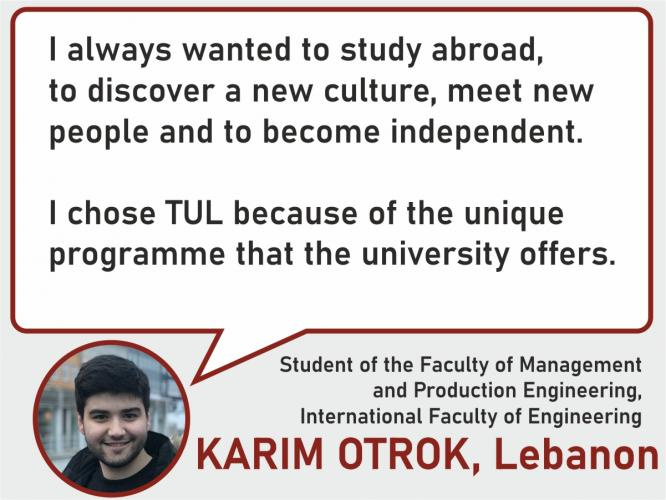 How do you like Poland?
Poland is a beautiful country with wonderful landscapes. It has plenty of cities to visit, some of my favourite places are Sopot and Cracow. Also, the Polish people are very friendly and open-minded, regardless of your origin. Thus, if you're ever in need of help, Polish people are always ready to help. In terms of cost of living, Poland is very cheap in comparison to other western European countries, which makes it a perfect place for a student to live in.
Why did you decide to cover so many kilometres to begin studies at TUL?
I always wanted to study abroad to discover a new culture, meet new people and to become independent. However, the reason why I chose TUL is because of the unique programme that the university offers. Not only will students learn the theory, but they will have the chance to apply it in practice, which I believe many other universities fail to do. Also, TUL offers the opportunity to join ERASMUS+ and IAESTE which will definitely improve my career prospects.
What were your first impressions when you started your studies at TUL?
Like any new student in a foreign country, I was a bit nervous and overwhelmed, but the university made me feel welcome and helped me integrate easily. My first classes were engaging and interesting, and when I had any issue or in need of clarification, the student office was there to help.
Why did you choose this particular field of study?
As a mechanical engineer, I know the technical stuff about manufacturing processes. Thus, gaining a degree in operations management will help me learn how to control and optimise processes in order to boost the profits of the company. Therefore, having a degree in operations management would complement my engineering degree and would help improve my career growth in a highly competitive market.
What kind of job would you like to get in the future?
In the short run, I would like to become a manager able to take critical decisions that would affect the company's performance and to lead my own team. In the long run, I would like to be self-employed and running my own business.
Karim Otrok from Lebanon, Saida
Masters of Operations Management student
Year of studies: I
ostatnie zmiany 2021-02-22 01:22:30